Back to all posts
Posted on
MH College students visit our school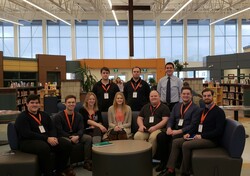 We were pleased to welcome several of the Medicine Hat College's first-year education students to our school this month to learn about what teaching is like at École St. John Paul II School!
As part of their practicum, the MHC students chose three schools in Medicine Hat to tour. They spent a morning meeting with our leadership team and learning about how our faith permeates all parts of our school life.
Here's what first-year education student Spencor Thomas had to say:
Why did you choose to tour École St. John Paul II School?
I heard about the school's open floor plan design and I thought it would be kind of cool to check out. They seem to be a bit more of a progressive school in our area ... it's been nice to see the different types of sensory rooms that they have and what they actually have for tables inside the classroom to help promote student learning. 
What was your highlight?
I really liked the MakerSpace with the 3D printers, the green screen — I thought that was the coolest thing. 
What value have you found in doing this versus a regular practicum?
It gives a chance to be exposed to a different side of the school system. Rather than just working with the public school it gives you a chance to see the Catholic school district as well. To really kind of open doors in that sense. 
Thank you for visiting us, students! Wishing you the best of luck in your studies.